No email marketing isn't dead in 2021. Email marketing is the one of the top ways to generate more sales, more leads, and more potential customers, however should be done perfectly.
Do you know? you can generate up to 50% or more of your revenue, of the total revenue using email marketing only.
Are you thinking to start email marketing, but have few doubts inside your mind that starting email marketing will be beneficial for you or not?
Then, read this article to get all your questions answered.
Is Email Marketing Dead in 2021?
No, even the demand and scope of email marketing have gradually increased during the last few years. Even it has become more effective, and the demand of email marketing will increase more as time will pass.
Almost every big brand Amazon, Flipkart, Google is doing email marketing to promote their products among new audiences.
There is no way which can say email marketing is dead in 2021. Even you will see the pros of email marketing everywhere, not too many cons. If it has a few cons, they are negligible.
Using email marketing you can increase your revenue and sales and make your brand successful.
Think of this, these days everyone has at least one email account which they use. And billions of users are using emails for their purposes. And the number of email users is increasing day by day. So how can you say that email marketing is dead? Here is the proof-
Image source statista.
As you can see the image above, there were 3718 Million active email users in 2017 and they have increased to 4147 Million in 2021 in just 4 years. And they will go up to 4481 Million by 2024.
Now tell me is email marketing really dead or will it dead in future?
Obviously not, instead of getting dead the demand for email marketing will gradually increase. And the number of email users will also increase by 2024.
How Effective is Email Marketing in 2021?
It is more effective than social media. You can drive more impact on your customer with emails in comparison to social media.
People in their email inbox get only the emails that they want to get. But on social media, they get all kinds of promotions, ads, etc. Which they may not want to see. If they are giving you their emails, you are valuable to them and they want more from you.
It is the most effective and easy way to reach and engage with people. They can logout from their social media account but they always(24*7) stay logged in, into their email account.
You can automate your whole email marketing journey which can save your tones of time and you don't need to hire dedicated staff for it. It can be done by own with ease.
Automation helps in more conversions and more sales.
Even you can automate webinars to sell high ticket products.
Email marketing is so important when it comes to building trust. Basically, you build trust with your customers by sending them emails. It also helps your customers to understand better about you and your products.
You can grow a huge email list of people(millions of people) who are interested in your niche. So that your brand can reach more people. Think of amazon.com how many e-mails amazon can have millions or maybe billions and How much revenue Amazon can generate from that emails? It's difficult to calculate.
Almost every big brand which you see today is using email marketing to acquire more potential customers. So why didn't you?
##click to read the reviews of free e-mail marketing software##
Email Marketing ROI
According to subscribers one email or one subscriber on your site worth 2$, if you have 1000 emails on your list or 1000 subscribers on your site, it worth $2000. That means even with the 1000 emails you can earn $2000/month.
Let's say you have invested $1000 while growing your email list to 1000 people.
That means you have to spend 1$ per email.
Now you have grown up your email list to 1000 people by spending $1000.
Now you have started sending emails to your list and you are promoting a product ( Let's say Webhosting). You have become an affiliate partner of xyz web hosting company. Now that company is providing you 50 dollar commission in selling one web hosting.
Now you want to sell that web hosting to your email list.
For it you have written an email to your list and described everything about that web hosting.
Or you have written a blog about that web hosting and send emails to your list. Here is the demo-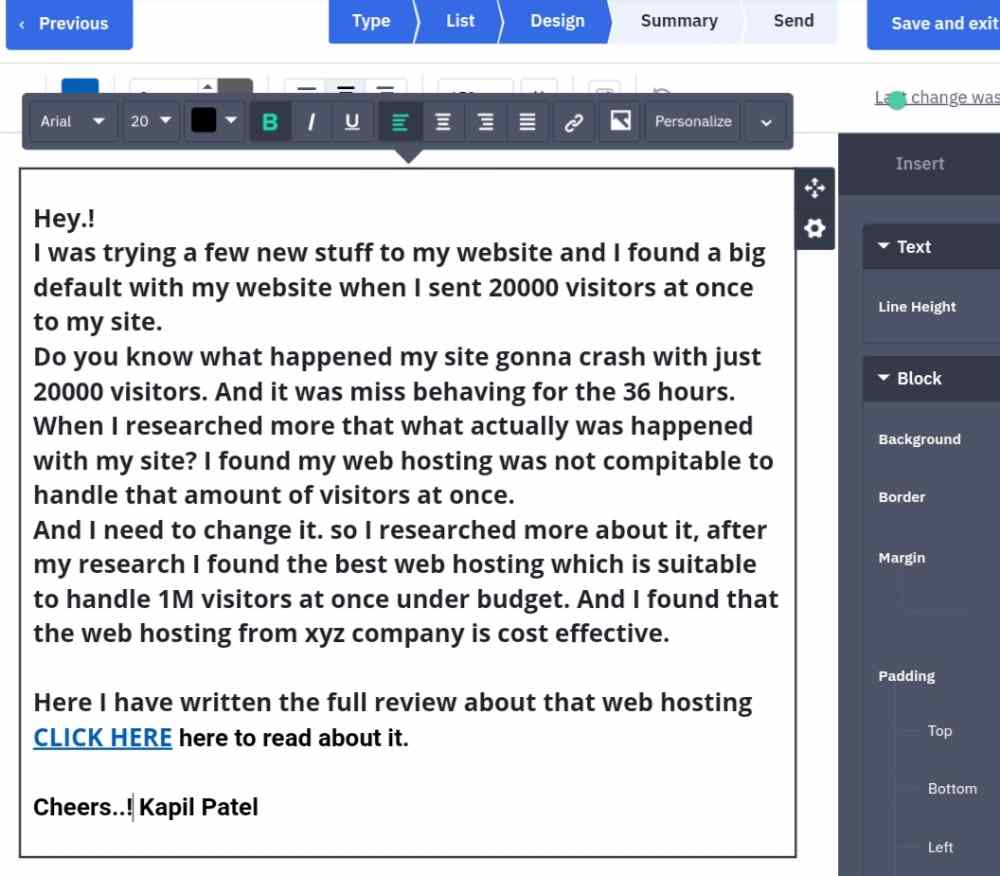 Now you have send that email to the 1000 people in your list. And you got the 4% conversion only, that means 4% people in your email list bought the web hosting from your affiliate link.
4% means 40 people have bought the web hosting and you are getting $50 commission in selling one web hosting. So your commission will be 50*40=$2000 by just sending one email.
That is the power of email marketing. Think of what if you have 100000 people in your email list. And you send that email to 100000 people. And you got 4% conversion that is 4000 people now multiply 50*4000=$200000 by one email only.
Conclusion
My motive behind writing this article was to tell you the real potential of email marketing. And get your question answered is email marketing dead in 2021? No, it's not and it will not.
If you are thinking to start email marketing then, you can start it today.
It's most effective and most powerful and you also can use email marketing so that you also can build a successful and profitable brand.
In this article, I tried my best to answer your question about the potential of email marketing. If still any catchy gap remains during this article or if you want to ask me any doubt, any suggestion, any help feel free to ask me in the comment section.
Cheers.!