WordPress is one of the most popular CMS which you can use to create any website which you can imagine. Using WordPress it is very easy to create an LMS site.
There are dozens of ways which can help you to create a LMS site in WordPress either free or paid.
But for the sake of this article, I am going to create a free LMS site using WordPress, so that you also can learn from this article and create your own LMS site for free.
A few months before I was working for one of my clients. So, my client was needed a WordPress LMS where he can sell his recorded courses online. And collect payments from those users who purchase any of the courses.
My client was also wanted the users should also be able to log in and register over the LMS to access his/her courses. I did exactly what he wanted. And in this article, I am gonna share all of these things.
While working for my client I found some best and free plugins which I am going to discuss in this article, that will help you to set up your own LMS site with WordPress for free.
What Is LMS?
Free vs Commercial.
Integrations
Web-based LMS vs Installed LMS software
Saas / Cloud LMS vs Hosted LMS
Etc.
LMS stands for Learning Management System. This means LMS is an environment or a place where people can learn something. LMS can be of many types such as-
You can set up your own free LMS site with WordPress to teach people what you know. For it, you can charge them money to access the content or courses on your LMS site.
Google class room, Moodle, Learn Press are the three examples of LMS.
What is WordPress LMS?
The WordPress LMS is a Learning Management System or an online website over the internet, which is dedicated to educating people. And the website is set up with the help of WordPress.
If you don't know what is WordPress? And how does it work? You may read our article on What is WordPress?
You can set up LMS with your WordPress site using a few plugins only (discussed below). There are plenty of plugins available to set up LMS with WordPress. Most of them are paid but thankfully there are free plugins are also available, that can help you set up LMS sites for free.
Is WordPress good for LMS?
The answer is yes.! WordPress is the world's most popular CMS to create any kind of website. You can easily create your LMS site with WordPress.
Managing and creating any kind of site in WordPress is a bit easy due to its easy-to-use drag-and-drop admin dashboard.
If you use WordPress you don't need to worry about coding. WordPress does all the coding work for you and provides you drag and drop Website creation features.
You can set up LMS site in WordPress with ease. It is very easy to create and sell courses using WordPress LMS. Also, you can restrict those courses which your users aren't paid for yet. You can let users register your LMS site so that they can log in to access the courses they paid for.
You can easily collect payments using payment gateways, even you don't need to talk manually to your users to collect the payments.
LearnPress – Free WordPress LMS Plugin?
If you want to set up LMS with your WordPress site for free, then LearnPress is the plugin for you. Learn Press is free to use LMS plugin for WordPress. You can use this free plugin to set up LMS and start selling courses.
Using LearnPress you can easily build courses, course-curriculum, quizzes, everything is easy to use in LearnPress. You can easily sell your courses and collect payments from your courses.
Learn press is the best free LMS plugin by ThimPress. Using this plugin you can turn your WordPress site into a complete LMS.
Learn Press provides you various functionality-
Create courses with an easy-to-use drag and drop features.
Easy to create the course curriculum.
Easy to create lessons.
You can give access to the demo lessons for all users, and lock the rest of the course content until they make payment.
Easy to manage courses and lessons.
you can easily build quizzes to track the performance of your students.
Installing Learn Press LMS With Your WordPress Site
After reading all the informative content, Now it's the time to install and setup Learn Press on your WordPress site.
If you need further instruction on plugins installation, you can check our step-by-step guide on How To Install a WordPress Plugins?
After installing and activating the learn press plugin, you can see it inside your admin dashboard.
To start using learn press, first, you need to follow the setup process of this plugin.
Learn Press Setup With WordPress
You can setup this plugin with your site in two ways.
Head over the LearnPress icon from the admin dashboard > click over the settings options.
2. Or you can click over the quick setup button of this plugin from the WP admin dashboard.
The quick setup option enables the Learn Press setup wizard with fewer setting options. Quick setup is easy yet powerful.
Note, For the sake of this article I will set up Learn Press with a quick setup. If you are a beginner, I don't want to confuse you. Choose quick setup. Later on, you can change every single setting of Learn Press from dashboard>LearnPress>settings.
After choosing the quick setup, click on run setup wizard.
Now you will reach the pages section where you can select pages for specific things. By default learn press creates all the required pages during installation. And assigns pages automatically during the setup process.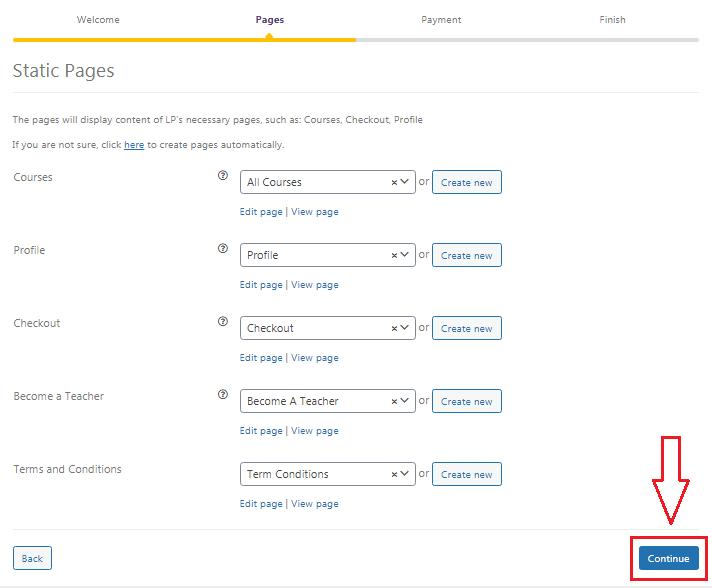 Without worrying to much you can Click on continue button below to setup payment.
Now at the payment page you can setup payment. To start accepting payments, you just need to enter two things to setup payments, first one is, your PayPal account's email address, and second is, select your currency. By default it's USD.
Hit the continue button to finish setup.
At the final step you will get four options 1. Install a demo course, 2. View documentation, 3. Create new course, 4. Back to dashboard.
Now choose what you want, and keep reading.
Some Important Notes about Learn Press LMS?
Learn Press is the free LMS plugin for WordPress developed by ThimPress.
This plugin is compatible with almost every WordPress theme and plugins.
You can always change the settings of Learn Press which you set up during quick setup. To change Learn Press settings head over the wp-admin>LearnPress>Settings.
To create courses, quizzes, lessons, track orders, statistics, etc, head over the wp-admin>LearnPress icon. Now you can see all the options.
Some Best Free Add-On Plugins For Learn Press
Learn Press provides some best and free add-on plugins that can turn your WordPress site into a dedicated LMS.
Here is the list of free add-on plugins for learn press.
There are also some more add-on plugins are avialable. You can check them here.