Do you want to know how can you start blogging that can generate more than 1000$ in a month?
Are you thinking to write blogs to share your knowledge with the world and earn money?
Then read this full article because at the end of this article you will learn everything that you will need to start writing blogs.
Contents
What is blogging
Things you will need to start writing blogs

Website Hosting
Website Domain
Keyword research and SEO strategy tool
WordPress setup

Conclusion
Note, This article may contain some affiliate links. These links are here not for our earnings but to provide you the best resources.
What is blogging
well you want to start blogging, you will be familiar with blogging. But still I will make you understand that what the blogging is.
The term "blog" ,which refers to an online journal. Blogs began as personal mini sites that people used to record their opinions, stories, and other writings as well as photos and videos.
Blogs consist of a series of posts made by one or more bloggers. The posts appear in reverse chronological order, with the most recent post at the top of the main page. Readers can browse these pages and they can read them and collect information from that posts.
Things, you will need to start writing blogs
Here are the things which you will need to start writing blogs.
#1 Web Hosting
Well you want to write blogs so you will need web hosting in order to host your website.
Website hosting is a server or place where you can store your website in order to make it online and accessible to anyone. You can store all the images/videos/files on the hosting which you use on your site. Well it's a storage for your site on the third party server which is online 24*7*365. so, that you or others can access to it anytime.
That's the only reason to buy a website hosting, to make any site online and accessible for anyone at anytime. But is that enough about web hosting what about site loading speed?
Is buying hosting from any web hosting provider will be good?
No, You must invest money in purchasing a good website hosting. Because the speed and loading time of your site is completely depend on your hosting. A fast loading site ranks well on Google and Google also trusts sites which loads fast with useful content.
Investing your money for a good web hosting will be your asset, not your debt. Because you will not lose your visitors due to your unassertive web hosting. No one is going to wait three minutes for your blog to load, they will leave your site and read another blog. Because we are living in the world of convenience, where everyone wants everything to be happen immediately.
As you can see my own site loads fast even I don't have done any technical SEO yet, but still, my site loads fast, it's because of my web hosting. I have invested in good website hosting so that my site can response faster so that I can keep my visitors happy.
So you must invest some money in purchasing a good website hosting, and soon you will earn more than your investment from your blogs.
Which web hosting provider is good for me?
I host my website with SITEGROUND and I am fully satisfied with my hosting provider. Siteground provides me good customer support and fast site loading speed. If you seriously want to start blogging and want to earn more than 1000$ month then SITEGROUND is the best option for you to host your site.
Siteground provides you lot more features which help in running a smooth and fast website, which deliver value to visitors.
Plans provided by siteground
Siteground provides three shared hosting plans to start your website-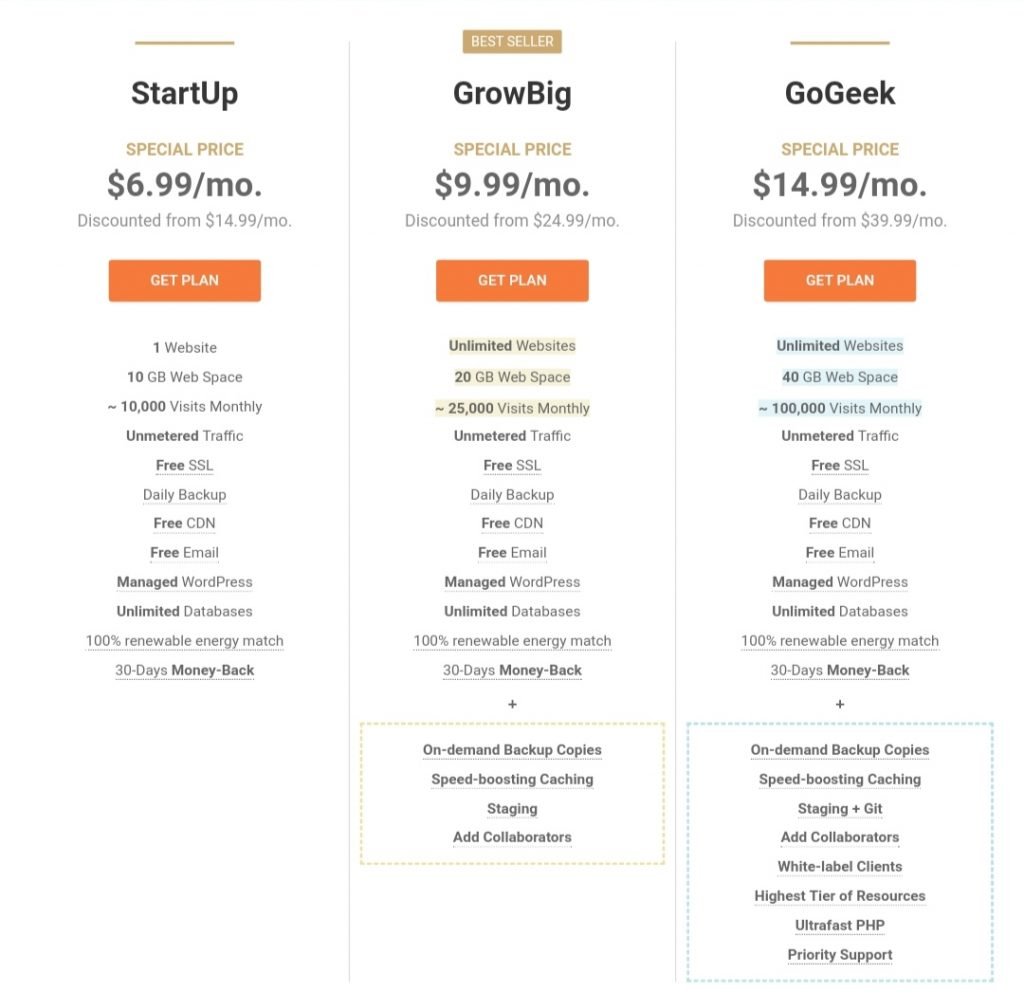 startup plan
this is the first plan provided by siteground if you want to host one website only then startup plan is best for you
Features of startup plan
1 Website
10 GB Web Space
~ 10,000 Visits Monthly
Unmetered Traffic
Unlimited Databases
Grow Big plan
Grow Big is the second plan provided by siteground. If you want to host multiple site then Grow Big plan is best for you.
Features of Grow Big Plan
Unlimited Websites
20 GB Web Space
~ 25,000 Visits Monthly
Unmetered Traffic
Unlimited Databases
Go Geek Plan
Go Geek plan is the third plan provided by siteground, this plan is for professionals who have more visitors on their site. To handle that flood of visitors Go Geek plan is best. But in the starting you don't have any need to buy Go Geek plan.
Features of Go Geek plan
Unlimited Websites
20 GB Web Space
~ 25,000 Visits Monthly
Unmetered Traffic
Unlimited Databases
100% renewable energy match
30-Days Money-Back
Which plan of siteground I personally use?
I use Grow Big plan to host my websites. Currently, I am hosting 4 websites and I am not getting any issue and any problem from my hosting. All of my sites are super fast with fast loading time. Along with Siteground provides SG-optimizer plugin which is very helpful to make your site faster. With the help of this plugin you can optimize your images, javascripts, HTML and many more so that you can get super fast loading time of your site.
If you seriously want to start blogging and want to earn money then I would highly recommend you, purchase web hosting from the siteground.
Siteground provides you many features to host a simple, secure, and fast website.
Some additional features of site ground are–
Customer Support, SiteGround provides 24/7/365 days of customer support to solve every query of its customers. SiteGorund provides heart-winning support.
Backup, SiteGround store backup for your site for the last 30 days. If in case you are making changes on your site but some tragedy happened and you lost your site while making changes. In that situation, you can backup and restore your older site back again.
Easy and Fast Website Building, siteground provides you an easy and fast website building tools. You can build your website very easily even if you are non-technical.
Smooth Website Transfer, if you are hosting your site to any other hosting and you want to transfer your site to siteground then, you can do it very easily with the smooth website transfer tool.
Managed WordPress, You. Can install WordPress in just one click only siteground web hosting is reliable for WordPress.
Collaboration tools, if you want to collaborate with other brands you can do it very easily with the help of collaboration tools.
Powered by Google Cloud, SiteGround's servers are powered by Google cloud which is fast and efficient. Siteground is a complete solution to host your site smoothly.
Ultra-Fast Network, obviously if any network is powered by Google cloud will be ultrafast.
SSD Storage, you get SSD storage to store the data of your site. SSD is a super-fast storage device which processes 20 times faster than HDD.
Website Domain
In order to start a website a domain is most important, because without domain you can't start a website because domain name is the address of your site.
Choosing a right domain name is most important for your site.
But the thing is how to choose best domain name?
You can keep the following things in mind while choosing the domain name for your site-
Your domain name must short, kindly avoid using long domain name.
The name of your domain must be easy to remember, kindly avoid difficult domain name.
It's not mandatory but your domain name should be related to your niche. Let's say if I write blogs only on web hosting then I would choose my domain name www.hostinggyan.com.
If you want the visitors only from india then .in Extention is best for you don't go for the global Extention. Purchase global extension only if you want to target whole visitors from US and UK.
If your desired domain name is already taken by someone else then you can add some numbers after the name of your domain to get the approx. matching domain. Lets say you want a domain name hostinggyan.com but it's not available so you can buy domain like hostinggyan99.com.
Keyword research and SEO strategy tool
Writing blogs is one thing but without proper market research and SEO, you will not get any organic visitor from Google. Your hard work will be in no use.
Getting organic visitors from Google to your site needs the proper SEO and the initial part of the SEO is keyword research. With the help of this tool, you can do the proper market research and many more thing like competitive keyword research, etc, to track exact results.
keyword research is so much important to get organic visitors to your site and SEM Rush is the best tool for all your research works.
SEM Rush has more than 6 Million registered users who are using SEM Rush for their market research. Along with SEM Rush is the world's no#1 market research tool. You can do all your market research work from one tool only.
SEM Rush has 20 Billion keywords, 140 Geo databases, and 810 Million domains. SEM Rush is a complete solution for all your market research work.
Top Tools Provided By SEM-Rush are
SEM-Rush provides 40+ tools for SEO, Content Marketing, PPC advertising, social media, and, competitive research which are enough to take your website to the next level. Some of them are listed below.
SEO ToolKit
It is the best tool ever for all your SEO work. This tool helps pretty much in Keyword Research, link building, rank tracking, On-page and technical SEO, and, Competitive research.
Content Analyser
Checks your content for SEO friendliness on the go- this tool checks SEO optimization for the targeted keywords. Checks the Readability score whether your content is easy to read or not. And many more things.
Market Explorer
Get an instant market overview with the help of market explorer. You can research new niches also with the help of this tool. This tool is so powerful when it comes to market research.
Site Audit
You can audit your full site where you can track whether your site is performing well or not. If your site needs improvements then you can track it where you need to improve your site. And you can make your site faster and smoother which helps in improving your SERP results.
Backlink suite
Reach the Top of SERPs with Quality Backlinks. Enhance your SEO with SEMrush's powerful backlink suite. This tool is so much helpful when it comes to backlinks it helps in generating high quality backlinks so that your site can reach the top SERP results.
WordPress set up
Now I will show you how to setup WordPress to start writing blogs. I'll create a new site for you from scratch in this section so that, you also can do it by reading this article.
If you haven't purchase the web hosting and domain yet then purchase it right now because without web hosting and website domain you can't do this step. So purchase it right now.
After purchasing the domain name and web hosting it's time to point your DNS(Domain Name Servers) to your web hosting so that, domain and web hosting can communicate with each other.
If you are purchasing the domain name and web hosting from the same provider then you will not need to point out DNS. But if you are purchasing web hosting from X company and domain from Y company then you will need to point out your Domain to your hosting.
How to point out DNS
Step 1, login to SiteGround.com.
Step 2, after logging you will reach the home page of your account. Then click on Websites from the top menu then click on New Website.
After clicking new website you will see things like that.
Step 3, Select existing domain
Step 4, After Selecting the existing domain it will ask you to enter your domain name so, enter it below the text field and hit continue.

After hitting continue it will show you a message
That message means the domain which you want to use is not registered with siteground, in order to use that domain you have to change it's nameservers which siteground will provide you. And for changing the nameservers you must have the access to this domain so that you can change the nameservers(DNS) of that domain to point that domain to siteground.
Step 5, if you have access to your domain which you entered on siteground hit continue button below that message.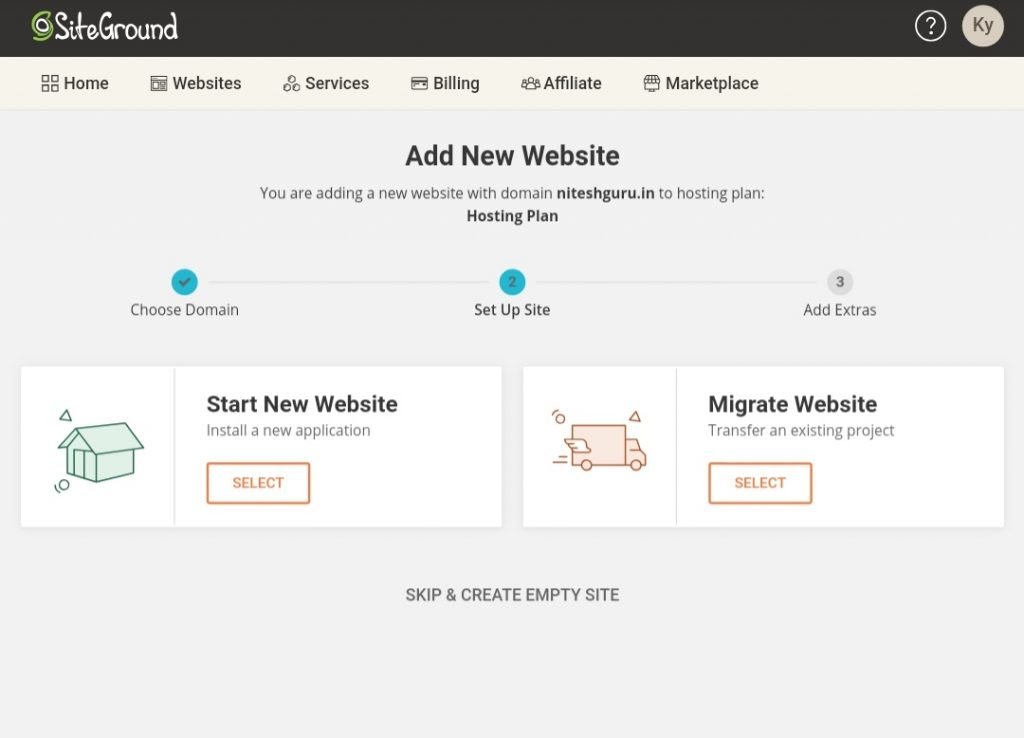 After clicking on continue you will reach to step 2 that is set up site. Where you will get three options-
Start A new Website, If you choose this option you can install a new application(WP, Joomla, etc) to create your site.
Migrate Website, if you already have a website which you are hosting on another Web hosting except for SiteGround. Then you can transfer it to the SiteGround with this option.
Skip and create empty site, in third option you can skip every step and can create an empty site.
Step 6, Choose the option 3 skip and create empty site, because we will first point out our DNS, then we will install the WordPress.
Step 7, Now we are on the add extras step but for now, we don't want to add any extra thing so, click on finish.
After clicking on finish, it will start creating your site and within 2 minutes your site will be ready.
Two things will happen while creating your site. 1 siteground will create your site. 2 siteground will generate the nameservers(DNS) of your site.
After the creation of your site you will see things like that(image below).
Here you will get two options manage site and point your domain,
We will point DNS first then manage site.
Copy the NameServers which you have provided by siteground and read the further steps.
Next Steps
Step 8, Login to Go daddy Account
As You will login you will reach on my products page where you can see all your products and domains which you bought from GoDaddy.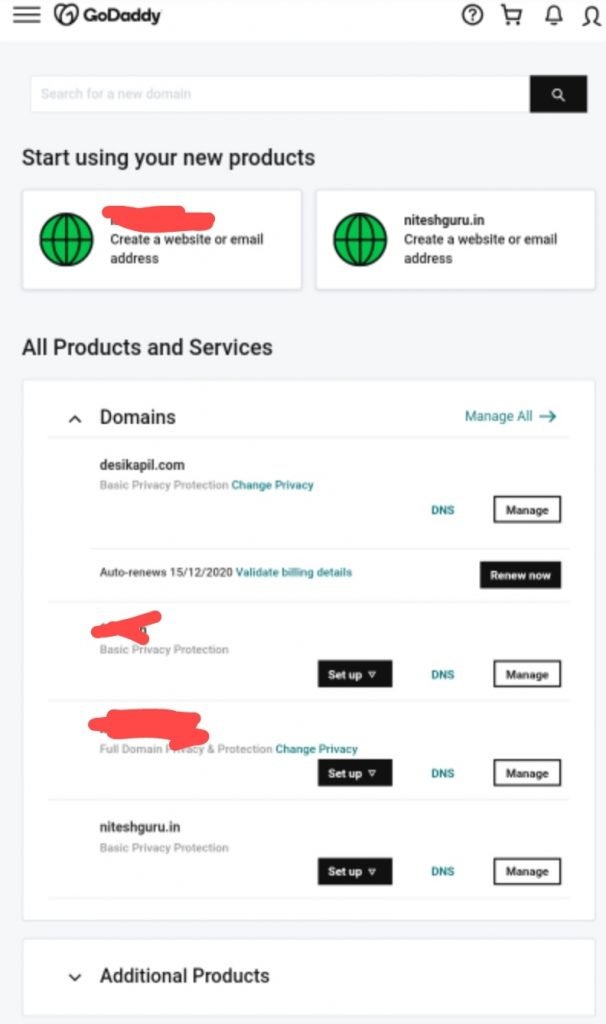 If in case you don't reach to my products page, click the top right dropdown(Three Dots) then click My Products.

Step 9, Click over the DNS of your domain which you want to change the nameservers.
As you will click on the DNS you will see four things records, name servers, advanced features and, forwarding. But here we want to change the nameservers only so click on the change in the nameservers section.
Step 10, Now Click Over enter my own name servers(Advanced)
Step 11, Now paste the name servers which you copied and hit the save button. SiteGroud will provide you two name servers paste both of them here in the nameserver 1and nameserver 2 section.
You will get a message from GoDaddy. As you will click the save button. Check that message and hit the continue button.
Soon your name servers will be updated and your domain will point out to your site. Mostly it takes 2-20 minutes but in some cases, it may take up to 24 hours.
Installing WordPress On Siteground
Step 1, Now go back to Siteground>website>your site which nameservers you changed>manage
As you will click on the manage you will reach on that page(Image below)
Step 2, click over the site tools from that window.
Step No. 3, click App Manager
Step 4, Select WordPress from the application section,
After Choosing WordPress you will see things like that(image Below)
Step 5, here you have to fill your admin info that is username and email set your Password.
Don't change the installation path and domain, uncheck the install WordPress multisite and hit on install button. In less than 2 minutes WordPress will be installed on your site.
#Start Making Money With Affiliate Marketing#
Conclusion
In this article my focus was to give you the idea about those things which are essential to start blogging so that you to can start blogging and earn money.
Anyone can start blogging very easily and soon he/she can earn $1000 or more in a single month.
Yes that is true you can earn more than $1000 in just a single month but for it you have to start blogging. No matter how good you are in writing?
start blogging and soon you will be pro but for it you have to start blogging now. And slowely – slowely your growth will start. Read this article and start blogging and establish yourself as a blogger.